A summary of today's roster analysis:
@2ksports couldnt get even get trades right after THE TRADE DEADLINE. @nba2kinsider should be ashamed. @ronnie2k will surely back him up tho
— Rashidi (@Real2KInsider) February 22, 2013
I wasn't wrong.
Looks like someone can't handle the truth.@ronnie2k @2ksports @nba2kinsider #NBA2K13 twitter.com/Real2KInsider/…
— Rashidi (@Real2KInsider) February 23, 2013
There are four players on the wrong teams.
THIS ISN'T ROCKET SCIENCE.
Read a transaction list for christ's sake. There is simply no justifiable reason why rosters shouldn't be 100% accurate on a day all fans expect them to be.
...Or maybe this IS rocket science? That makes me a mother ****ing genius since
I CAN keep up with trades, signings, and the player ratings of an entire league.
I'm starting to like this irrational world 2K Sports lives in.
------------------------------------------------------

PLAYER EDITS
Player attribute edits per roster
2/23: 0
2/22: 4
2/15: 9
2/12: 3
2/2: 2
1/30: 7
1/24: 0
1/21: 0
1/17: 18
1/12: 2
1/5: 16
1/3: 1
12/25: 0
12/21: 0
12/18: 9
12/13: 1
12/8: 15
12/5: 14
11/17: 16
Monthly Edits
Nov: 16
Dec: 39
Jan: 44
Feb: 18
------------------------------------------------------
Kyrie Irving
89 Overall (+1)
99 Handle (+5)
97 OHD (+5)
96 Security (+8)
2K Sports now seems to be changing ratings based on Rising Stars game performances. God forbid someone on the Cavaliers besides Kyrie Irving get a player edit either. I'm half surprised that they didn't give him Ankle Breaker signature skill either, but that would have required slighty more effort or ingenuity. We can't have that going around the company!
------------------------------------------------------
Courtney Lee
74 Overall (+2)
57 OffAwr (+5)
81 DefAwr (+11)
I suppose Lee deserved this, but he also deserved many decreases as well, particularly to his 85 3pt rating (35% down from 40%) which is quite overpowered in conjunction with his Spot Up Shooter and Corner Specialist signature skills.
Editor's Note: I have Lee at 57/80 Off/DefAwr in my "Real NBA 2K13" roster.
------------------------------------------------------
Terrence Williams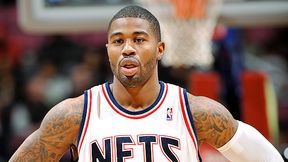 73 Overall (-3)
80 Close (-10)
74 Medium (-3)
74 OBDef (-6)
56 OffAwr (-4)
52 DefAwr (-6)
Williams was re-added to the game after being removed when he signed in China. His ratings have dropped since then as 76 Overall was obviously way too high for a guy that couldn't even crack the Detroit Pistons out of training camp. Williams should get the chance of a lifetime on a depleted Celtics squad, but he still has to earn a contract for the rest of the season.
------------------------------------------------------
Danilo Gallinari
77 Overall (+1)
80 Medium (+4)
84 3pt (+3)
82 FT (-1)
72 Traffic (+3)
58 OffReb (+7)
Over Gallinari's last 10 games he is averaging 21.8 points and 6.0 rebounds. However going by Gallinari's season numbers there wasn't much of an incentive to upgrade these. Given that Gallinari was already edited in-depth a few weeks ago, it would be nice if 2K Sports would get around to the HUNDREDS of players who haven't gotten a single update all season.
------------------------------------------------------
PLAYER MOVEMENT
BOBCATS
Josh McRoberts (64/PF) from Magic
BUCKS
J.J. Redick (72/SG) from Magic
Ishmael Smith (71/PG) from Magic
Gustavo Ayon (64/C) from Magic
CELTICS
Jordan Crawford (75/SG) from Wizards
GRIZZLIES
Dexter Pittman (55/C) from Heat
HAWKS
Dahntay Jones (73/SF) from Mavericks
KINGS
Patrick Patterson (75/PF) from Rockets
Toney Douglas (72/PG) from Rockets
Cole Aldrich (59/C) from Rockets
MAGIC
Beno Udrih (68/PG) from Bucks
Tobias Harris (68/SF) from Bucks
Doron Lamb (63/SG) from Bucks
MAVERICKS
Anthony Morrow (66/SG) from Hawks
RAPTORS
Sebastian Telfair (68/PG) from Suns
ROCKETS
Thomas Robinson (75/PF) from Kings
Francisco Garcia (68/SF) from Kings
Tyler Honeycutt (66/SF) from Kings
SUNS
Marcus Morris (68/PF) from Rockets
Hamed Haddadi (49/C) from Raptors
THUNDER
Ronnie Brewer (72/SG) from Knicks
TRAIL BLAZERS
Eric Maynor (68/PG) from Thunder
WIZARDS
Leandro Barbosa (71/PG) from Celtics
Jason Collins (48/C) from Celtics
FREE AGENTS
Ronnie Price (65/PG) from Trail Blazers
Luke Zeller (59/C) from Suns
------------------------------------------------------
PLAYERS ON WRONG TEAMS
Hakim Warrick (65/PF) Magic (Waived on 2/21)
Charles Jenkins (62/PG) Warriors (Traded to 76ers on 2/21)
Jeremy Tyler (61/PF) Warriors (Traded to Hawks on 2/21)
Kenyon Martin (76/PF) Free Agents (Signed 10-day contract with Knicks on 2/21)
Editor's note: Jenkins, Tyler, and Martin were placed on their respective teams in a 2/23 update. These were the sole changes in that roster.
------------------------------------------------------
UPDATED MISSING PLAYER LIST
Kevin Jones (PF) - Cavaliers (17 games, 9.5 mpg)
Jarvis Varnado (PF) - Heat (9 games, 3.8 mpg)
Kevin Murphy (SG) - Jazz (12 games, 3.1 mpg)
Mike James (PG) - Mavericks
(16 games, 9.6 mpg, played 539 games prior to this season)
Julyan Stone (PG/SG) - Nuggets (2 games, 5.5 mpg, played 22 games prior to this season)
Ben Hansbrough (PG/SG) - Pacers (20 games, 7.4 mpg)
Patrick Beverley (PG) - Rockets (15 games, 13.7 mpg)
Aron Baynes (C) - Spurs (6 games, 5.8 mpg)
Diante Garrett (SG) - Suns (7 games, 4.7 mpg)
Mickael Gelabale (SF) Timberwolves (15 games, 21.1 mpg, played 109 games prior to this season)
Chris Johnson (C/PF) - Timberwolves (10 games, 12.0 mpg, played 41 games prior to this season)
Kent Bazemore (SG/SF) - Warriors (37 games, 4.9 mpg)
It has been months since a missing player has been added to the game, and there is no excuse for many of these players to be missing especially at this point in the season.
Patrick Beverley recently tweeted Ronnie Singh (Ronnie2K), asking if he was going to be added to the roster. Ronnie lied to Beverley (or perhaps was misinformed) about being included in the 2/12 update.
@ronnie2k I hope I'm on there!!!!
— Patrick Beverley (@patbev21) February 12, 2013




@patbev21 You are!
— Ronnie 2K 2K13 (@Ronnie2K) February 12, 2013





Rather than be honest with Beverley, Ronnie instead covered his ass and lied about the reason why Beverley was absent from the 2/12 roster.



@patbev21 was told this morning that you were pulled from update. Sorry dude but I told Insider to prioritize you
— Ronnie 2K 2K13 (@Ronnie2K) February 12, 2013




Fast-forward three days to the following update, and it's clear Beverley wasn't "pulled" last minute. This was a cop-out by a 2K Sports employee who has no idea what is going on with the actual product, and perfectly illustrates the lack of professionalism that has gone into 2K's rosters over the past decade, and more prominently, the last five.
We have been marketed "Living Rosters", the "NBA Today", and an NBA "Insider" as key features within the game. Yet it's more apparent than ever that 2K simply doesn't take any of this seriously even though the majority of their fanbase does... and it irks me that 2K employees still pretend to treat the Insider as an actual person we can pass information along to. You'd have a better chance convincing me that CORPORATIONS are people, much less the 2K Insider.
------------------------------------------------------
INJURED PLAYERS
Danny Granger is back in advance of his return from injury. Granger is expected to return within the next couple days and will immediately make the Pacers an elite online team.
Deron Williams returns from an injury he never should have had in the first place, returning the Nets to online respectability.
Red
denotes player cannot play through injury.
NEW
None
RECOVERED
Larry Sanders (73/C) Bucks
Gordon Hayward (68/SG) Jazz
Deron Williams (86/PG) Nets
Danny Granger (83/SF) Pacers
INJURED LIST (32 total)
76ers:
Andrew Bynum (87/C)
, Thaddeus Young (74/PF),
Jason Richardson (74/SG)
Bobcats: N/A
Bucks: N/A
Bulls:
Derrick Rose (92/PG)
Cavaliers:
Anderson Varejao (76/C)
Celtics:
Rajon Rondo (89/PG)
,
Jared Sullinger (71/PF)
Clippers:
Trey Thompkins (63/PF)
Grizzlies: N/A
Hawks:
Louis Williams (78/SG)
Heat: N/A
Hornets: N/A
Jazz:
Mo Williams (78/PG)
,
Raja Bell (71/SG)
Kings: N/A
Knicks: Marcus Camby (73/C),
Rasheed Wallace (71/PF)
Lakers: Pau Gasol (81/PF), Jordan Hill (70/C)
Magic:
Glen Davis (73/PF)
,
Hedo Turkoglu (72/SF)
,
Al Harrington (71/PF)
Mavericks:
Chris Kaman (76/C)
Nets:
Tornike Shengelia (56/SF)
Nuggets: N/A
Pacers: N/A
Pistons:
Andre Drummond (70/C)
Raptors: Mickael Pietrus (72/SF), Linas Kleiza (64/SF)
Rockets: N/A
Spurs: N/A
Suns:
Channing Frye (67/PF)
Thunder: N/A
Timberwolves:
Kevin Love (89/PF)
,
Brandon Roy (80/SG)
,
Chase Budinger (71/SF)
,
Malcolm Lee (SG/65)
Trail Blazers:
Elliot Williams (66/SG)
Warriors:
Brandon Rush (71/SG)
Wizards:
Leandro Barbosa (71/PG)
, Cartier Martin (67/SF)
------------------------------------------------------
INCORRECT LINEUPS
BOBCATS
Kemba Walker (PG), Gerald Henderson (SG), Michael Kidd-Gilchrist (SF),
Jeff Adrien (PF)
, Bismack Biyombo (C)
Byron Mullens returned to the starting lineup on 2/8.
CAVALIERS
Kyrie Irving (PG),
C.J. Miles (SG)
, Alonzo Gee (SF), Tristan Thompson (PF), Tyler Zeller (C)
Dion Waiters returned to the starting lineup on 2/1.
HAWKS
Jeff Teague (PG),
Kyle Korver (SG),
Josh Smith (SF)
, Al Horford (PF)
,
Zaza Pachulia (C)
Devin Harris has been starting at SG. Anthony Tolliver has recently been starting at PF which has pushed Smith to SF and Kyle Korver to the bench. 2K also has DeShawn Stevenson on the inactive list for no reason whatsoever - Stevenson even started twice this month, and has played 8 times in the past 10 games.
------------------------------------------------------
Liked the in-depth breakdown of 2K Sports' roster update? Check out Rashidi's roster,
The Real NBA 2K13
.